Paradis Printing Company has been delivering prints and projects for hotels in Europe for over 20 years. We have established our mark as a reliable and trustworthy business partner and we have been cooperating with many hotel brands, delivering a wide variety of products, from simple and economic prints to custom and high-quality products for premium hotels. In Paradis we also care about the environment. In 2018 our company was audited by Ecovadis company and received a high mark for our CSR and sustainability policies (Silver medal in Ecovadis CSR rating).
Below you can read some of our clients' opinions regarding our past and present cooperation.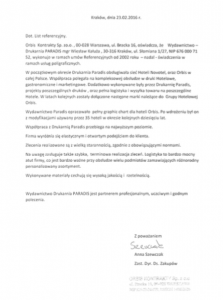 Reference from Grupa Hotelowa Orbis (cooperation with Paradis since 2002):
"Initially, Paradis has provided services for all Novotel and Orbis brand hotels in Poland. The cooperation was based on comprehensive supply of all hotel, restaurant, and marketing prints. Additionally, Paradis made projects of individual prints and offered logistics and shipment of products to hotels. In forthcoming years, Paradis realized projects for additional brands from Grupa Hotelowa Orbis.
Paradis prepared the first graphic chart for Orbis Hotels. On implementation, it has been used by 35 hotels in Poland for the next 10 years.
Our cooperation with Paradis company has been at the highest level.
The company distinguishes itself by flexibility and openness in relations with clients.
The orders are realized very conscientiously and in accordance with our standards.
(…) Paradis company is a professional, reliable and trustworthy cooperator.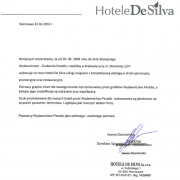 Reference from DeSilva hotels, Poland:
"We hereby confirm, we have been cooperating with Paradis Company since 2008. Paradis offers us the service of comprehensive handling of our operational, promotional and marketing prints.
The first graphic chart of our hotel was prepared by Paradis Company employees and its later modifications are realized in continued cooperation.
The prints, prepared by Paradis for our hotels are of high quality and are produced on time. Logistics is a strong asset of the company.
We recommend Paradis Company as a solid and trustworthy partner"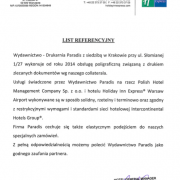 Reference from Holiday Inn Express Warsaw Airport:
"Paradis Company has been realizing print projects for us since 2014, printing documents according to our brand collateral.
We evaluate the service of Paradis company as solid, reliable and timely as well as consistent with our strict requirements and standards of Intercontinental Hotel Group (R)
Paradis company is also flexible in cooperation related to our special projects.
With full responsibility, we can recommend Paradis company as a trustworthy partner"